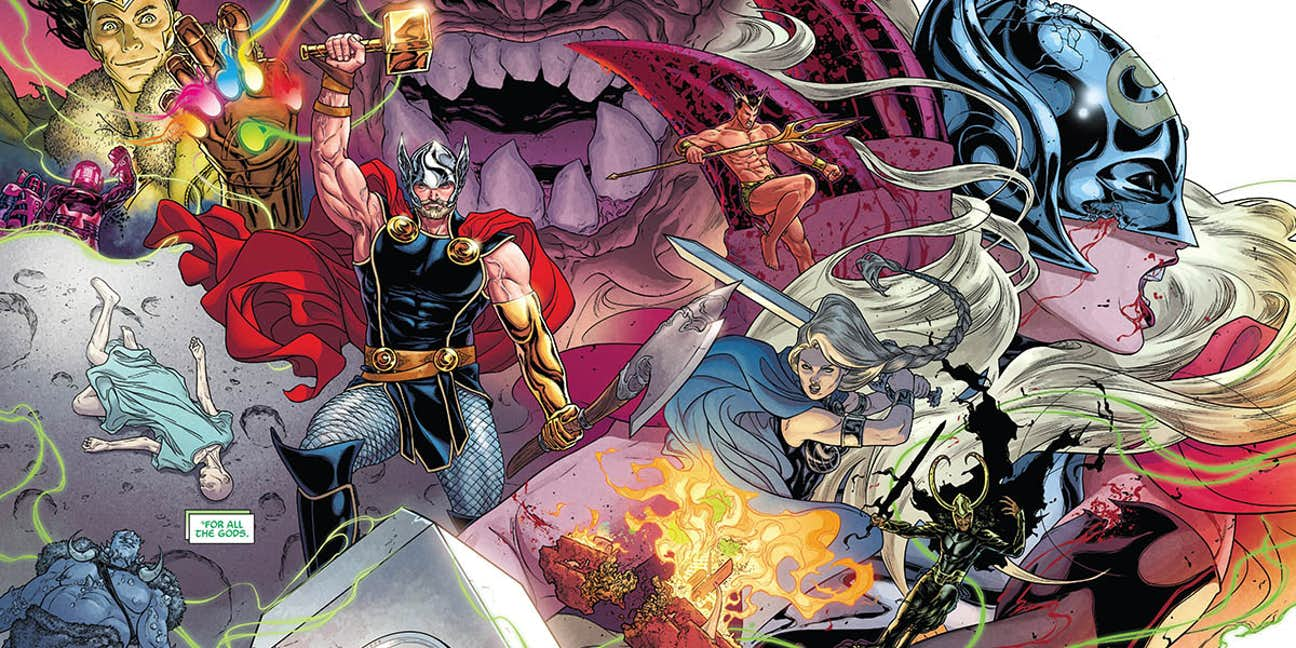 Long has Asgard watched over the affairs of the Realms, but rarely do we meddle in their affairs. One evening as our golden halls roared with the sound of song and we celebrated our great victory over the villainous Malekith, Heimdall bespoke of a peculiar little competition held on Midgard called the #FantasyComicLeague. Curious, we dispatched Agents of Asgard in the guise of mortal humans to infiltrate the competition.
Leading the Agents of Asgard is veteran Midgard-traveler, Agent Lori (@LoriHyrup). She was accompanied by Agent Geeks (@GeeksGoneWildTw), Agent Pom (@pomwonderland), and Agent Cham (@Cham_Arrow). Interestingly enough, a Human stumbled onto the team during a training operation. The Human, a veteran of the #FantasyComicLeague herself, provided the newly arrived Asgardians with valuable insight. Agent Lori thought it a good idea to keep a native with the group to help navigate the unpredictable nature of Midgard and its inhabitants, so Agent Seren (@Serendipity824) was welcomed into the team. Interestingly, Heimdall believes she may have traces of Asgardian blood, but no one dares mention it to the All-Father.
In their first month of competition, the Agents of Asgard scored a collective total of 331 points for the #FantasyComicLeague by saving 7 civilians, defeating 8 adversaries, and facing 13 life-changing events.
#Asgard Division Leader, Agent Lori, in possession of each hero of the week, performed admirably as one would expect of an elder Asgardian. She finished not only in 1st place, but set a new league record of 135 points for the 5-week run with #TeamXJean consisting of Old Man Logan, Kitty Pryde, Wolverine, and Cyclops. She may need to tone it down as the Agents of Asgard do not want to draw attention from the native Midgardians.
Finishing in a commendable 2nd place with 79 points was the Human, Agent Seren with #TeamAvengers. Her heavy hitter, both figuratively and literally, was Rogue who earned 38 points. Peter Parker, Nadia Pym, and Synapse delivered her the other half of her points. Maybe speculation of her Asgardian blood rings true. She's certainly proven herself worthy and will be observed closely as time progresses.
Agent Geeks secured 3rd place with 47 points, relying heavily on his solid Avengers leader, Falcon with 24 points. Ghost Rider, Miles Morales, and Ben Grimm, the Thing worked to provide Agent Geeks the other half of his haul.
Agent Geek and Agent Pom trained together for years in Asgard, which is reflected in the 1-point difference between the two of them. Agent Pom accumulated 46 points, spread out fairly evenly between Black Bolt, Thor, Deadpool, and Vision, gaining her 4th place.
Agent Cham worked extremely hard at blending in with the people of Midgard, scoring 24 points, spread evenly between Amadeus Cho (Hulk), Victor Von Doom, Kate Bishop, and the King of Wakanda, T'challa.
Now that Agent Lori has delivered the younger Asgardians their first tastes of Midgard and especially the wonderful #FantasyComicLeague competition they were sent to infiltrate, Agent Geeks, Agent Pom, and Agent Cham have finally acclimated themselves to the people, landscape, and oddities of the strange Realm. Expect them to hit their full stride in February!
The Saga of the League continues…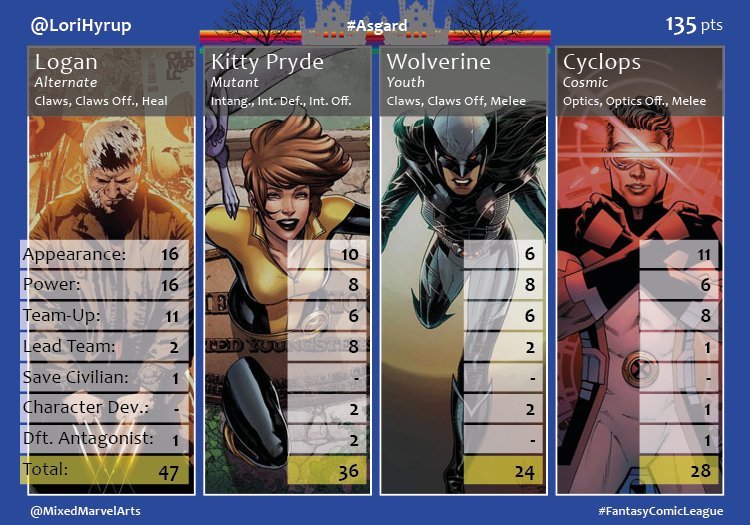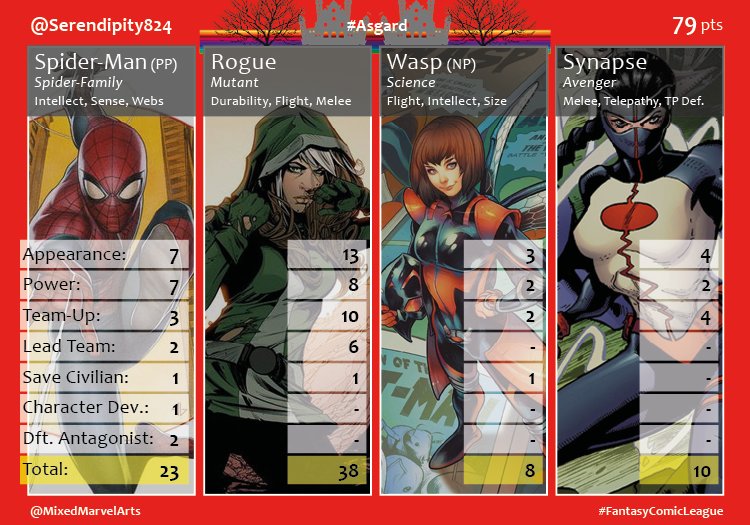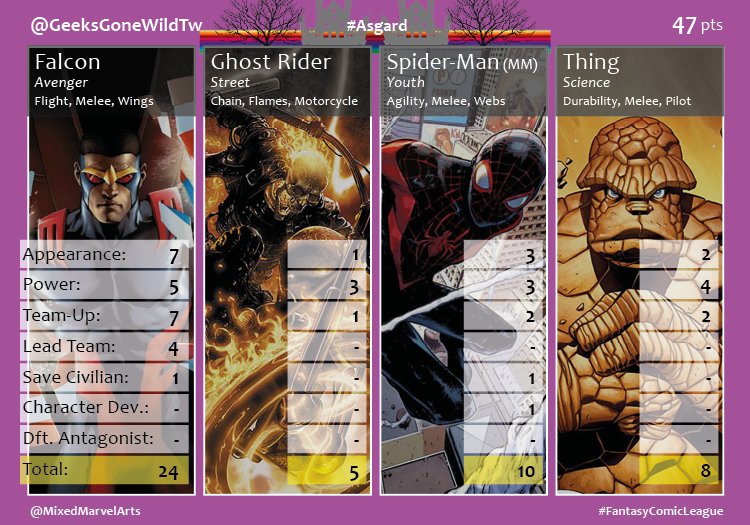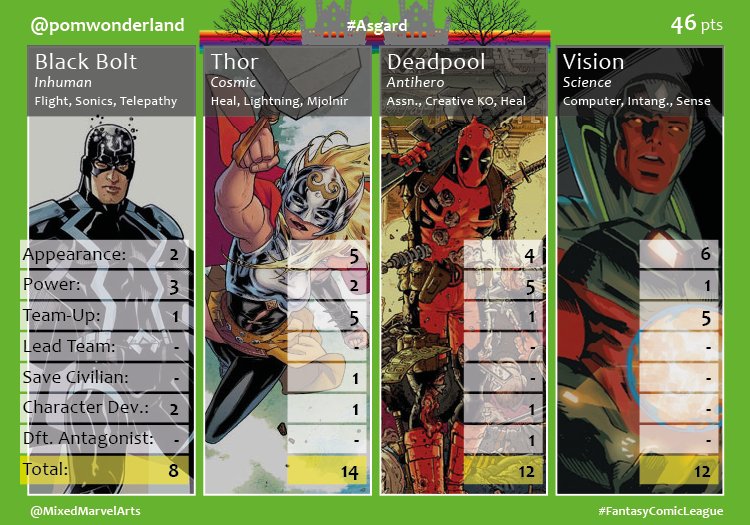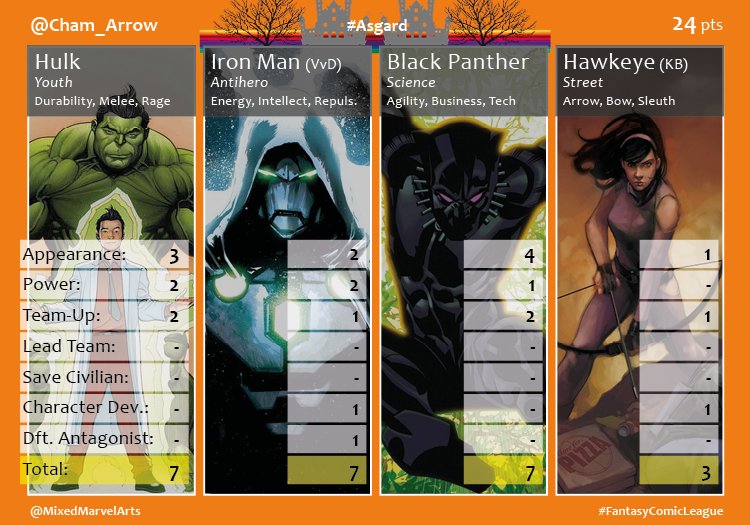 League Standing (and Twitter Handles) 
   Agent Lori – 3 points (@LoriHyrup)
Agent Seren – 2 points (@Serendipity824)
Agent Geeks – 1 points (@GeeksGoneWildTw)
Agent Pom – 1 points (@pomwonderland)
Agent Cham – 0 points (@Cham_Arrow)